Hello Ladies and Gentlemen and Everything In Between:
Ledisi
Ledisi means to bring forth.
I believe she's bringing forth Joy through God. Every time I see her smile, I want to smile.
Ledisi was born July 9, 1978.
On July 25, 2012, I attended the best concert to date, sorry Trey Songz and Monica.
I expected to hear Ledisi's beautiful voice, splatter amongst the room but to my surprise Ledisi danced, sung and acted out several scenes. She is smaller than I expected, too.
She entered the stage with a shimmy silver dress and heels, energetic and beautiful.

Ledisi started the show with a video playing saying "Why aren't you a gospel singer?" and throwing many stereotypes in the air. Then she began shaking her like Beyonce behind a curtain.

Ledisi then danced and had so much fun, I wanted to join her.

She had a quick clothes change and came back with a tight black leather blazer and pants with high heels

(that appeared to be 3 or 4 inches).

She gave a man from the audience a sneak preview of a different side of Ledisi.

Ledisi's final change was a black and white belted gown. She belted out Whitney Houston's "Greatest Love of All" and "Be Good to Yourself."
Her first album was titled "Soulsinger: The Revival" released in January 2000.
I believe the title was perfect for someone who revives my soul every time she opens her mouth.
Revival is a

restoration to use, acceptance, activity, or a

new presentation of an old play, movie, opera, ballet, or similar vehicle. A

time of reawakened interest in religion and/or a

meeting or series of meetings for the purpose of reawakening religious faith, often characterized by impassioned preaching and public testimony.
Watch "Bravo" by Ledisi
You won't have one sad tear left in you!!
Ledisi headlined her first tour to promote her album,

Pieces of Me

. The

Pieces of Me Tour

played to 22 sold out shows across North America. With this album, Ledisi was nominated for 3 Grammy awards for the Grammy Awards 2012, in the categories Best R&B Album, Best R&B Performance and Best R&B Song, for the album and the lead single "Pieces of Me".

Ledisi has released her first book,

"Better Than Alright: Finding Peace, Love & Power"

on Time Home Entertainment, Inc. The book, an innovative collaboration with ESSENCE, is filled with my fav. singer's personal photos, quotes, lyrics and richly detailed stories of the Grammy nominee's journey to acceptance of her beauty, talent and power.

On April 6, 2012, Ledisi announced her second headlining tour,

B.G.T.Y.

, with

Eric Benet

serving as an opening act.
A Glimpse of Ledisi's Performance
Eric Benet opened up for My Favorite Singer and blew my mind. He moved his finger like Mariah Carey and hit notes I'd never heard before.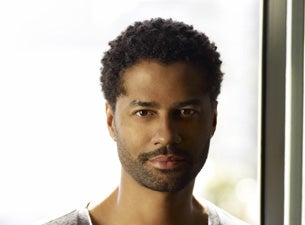 Before going in to the show, I seen Eric Benet exit his limo with a white tee and black jeans.
He was Born October 15, 1966.
He professed his love to his wife Manuela Testolini during the show and spoke briefly on his baby girl.
Visit www.wix.com/marshaymodels/marshayh
Adios Amigos, Until Next Time