Hello Ladies and Gentlemen and Everything In Between:
Congratulations goes to everyone who participated in the 2012 Olympics!!
ARCHERY:
After missing the target in Athens and Beijing the Yanks were closer to the bull's-eye this time. Brady Ellison didn't get an individual medal his teammates grabbed the silver & Khatuna Lorig was just off the women's podium.
BOXING: The men had the biggest team at the Games and needed a reversed decision to produce one quarter finalist.The women sent three entrants and got a gold from teenager Claressa Shields and a bronze from Marlen Esparza.
BADMINTON:
Howard Bach and Tony Gunawan, reunited at Olympus, couldn't match their golden magic from the 2005 worlds and didn't win a match and Rena Wang lost to a Chinese opponent.
CANOE/KAYAK: The size of the squad — just seven entrants in flat water and slalom — says it all. Nobody made a final, much less contended for a medal. The Americans simply no longer are competitive in a sport where they were golden two decades ago.
CYCLING: The women carried the team and delivered as promised — a repeat time trial gold by Kristin Armstrong (coming off maternity leave) and silvers from Sarah Hammer in omnium and her teammates in team pursuit.
DIVING: David Boudia's platform gold was the first by the men since Greg Louganis in 1988 and the three synchro medals — a silver from Kelci Bryant and Abigail Johnston and bronzes by Boudia and Nick McCrory, and Troy Dumais and Kristian Ipsen - were pleasant surprises.
EQUESTRIAN: For the first time since 1956 the horsey set was off its feed. The empty outing may have been an aberration, but it's clear that the Americans have been losing ground to the British, Germans, and Dutch.
FENCING: Mariel Zagunis, the two-time sabre titlist, missed the podium, it was an omen.
FIELD HOCKEY: They won the de facto championship of the Americas by beating silver medalist Argentina in the prelims but otherwise it was a lost Games as the Americans finished last in the 12-team field and took an unsightly 7-0 flogging from the South Africans, who didn't make the podium.
JUDO: Kayla Harrison's gold was a breakthrough and Marti Malloy's bronze a bonus. The Yanks may not be deep but they come with quality. Jim Pedro knows how to produce podium people at his Wakefield dojo.
MODERN PENTATHLON: Margaux Isaksen's fourth-place finish was tantalizingly close — eight points from the podium — for a program that hasn't won a medal since 1984 but Dennis Bowsher's 32d-place showing on the men's side wasn't unexpected. Until more than a smattering of Americans can name the five events in George Patton's old sport, the USOC won't pour cash into an upgrade.
ROWING: The Yanks collected what they'd come for — a repeat gold from the dominant women's eight and bronzes from the women's quad and men's four, which was the priority boat this time.
SAILING: The women placed fifth in Elliott 6-meter, the US flotilla was nowhere near the podium after winning gold and silver in Beijing.
SHOOTING: Their four medals were two fewer than the Americans bagged in Beijing but three of them were gold from Kim Rhode (her third in women's skeet), Jamie Lynn Gray (women's 3-position rifle), and Vince Hancock (men's skeet). Only the South Koreans matched that.
SOCCER: The women turned World Cup disappointment into Olympic delirium with their third straight gold medal, taking the Japanese down a peg and doing it in regulation as sharpshooter Carli Lloyd and keeper Hope Solo had a Beijing reprise.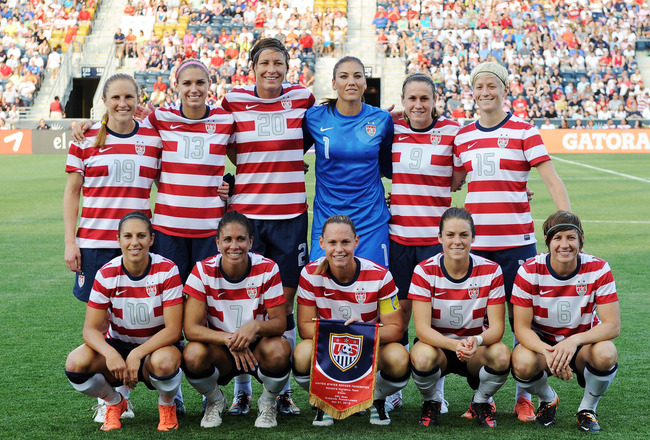 SWIMMING: Once again the chlorinated crew dunked the world, winning 31 medals to equal their Beijing haul, with their golds up from 12 to 16. Michael Phelps (6 for 7 for a career-record 22 medals) made a classy exit while Missy Franklin (four golds and a world record) made an exuberant entrance. Rhode Island's Elizabeth Beisel came home with silver and bronze, which should entitle her to a lifetime supply of Del's Frozen Lemonade.
SYNCHRONIZED SWIMMING: Ever since the Yanks made a golden splash in 1992, they've gradually been sinking out of sight.
TABLE TENNIS: After a Beijing breakout by the women, reality returned. Ariel Hsing beat a Mexican and a Luxembourger but couldn't handle a Chinese and nobody else won a match. Unless the USOC wants to pour millions into a grass-roots program, a medal is a distant dream.
TAEKWONDO: While the Lopez siblings were off the podium for the first time, Terrence Jennings and Paige McPherson both came up with bronzes after the Americans were blanked at the world championships. The Yanks still can kick it.
TENNIS: A golden repeat performance for the Williams sisters at Wimbledon, with Serena winning her first gold and she and Venus claiming their third in doubles. Brothers Bob and Mike Bryan won their first. Taken with Mike's bronze in mixed doubles with Lisa Raymond, it made for another splendid fortnight.
TRACK AND FIELD: Six of them came from the women, who shattered East Germany's doped world mark in the 4 x 100 relay that had stood for 27 years. The most impressive achievement was that 16 sprinters handled the baton without dropping it and came up with two golds and two silvers. Just like old times.
TRIATHLON: Middlebury grad Sarah Groff came within 10 seconds of making the podium, which would have been a boon for a program that has produced a sole bronze at four Games.
VOLLEYBALL: Matching the men's gold and women's silver from Beijing figured to be a tall order, and it was. The men were squelched by the Italians in the quarterfinals while the women again were spiked by the Brazilians in the final. It won't get any easier in Rio.
WATER POLO: Denied three times, the women finally grabbed their gold medal to confirm their global dominance. The men got as far as the quarterfinals before the Croatians drubbed them and ended up eighth.
WEIGHTLIFTING: A decent effort from a team so small that it could fit into a black cab. Seventh place from Sarah Robles and 10th place finishes from Holley Mangold and Kendrick Farris were respectable results.
WRESTLING: Only one more medal than Beijing but it was gold. The freestyle victories by Jordan Burroughs and Jake Varner were satisfying, as were the bronzes by Coleman Scott and Clarissa Chun. The Greco guys have to get back in the mix, though.
Information Source: The Boston Globe (C)2012
Women's USA Olympic Gymnastics Team
The Team Consist Of:

Gabby Douglas,
Jordyn Wieber, Aly Raismen, Kyla Ross and McKayla Maroney.
GYMNASTICS:
They didn't match their eight medals in Beijing, the women got the two they most wanted — their first team gold at an overseas Games and their third straight all-around title with Gabby Douglas. Though McKayla Maroney's rump-landing cost the Americans what they thought was a gimme gold on vault, Aly Raisman got one on floor and added a bronze on beam.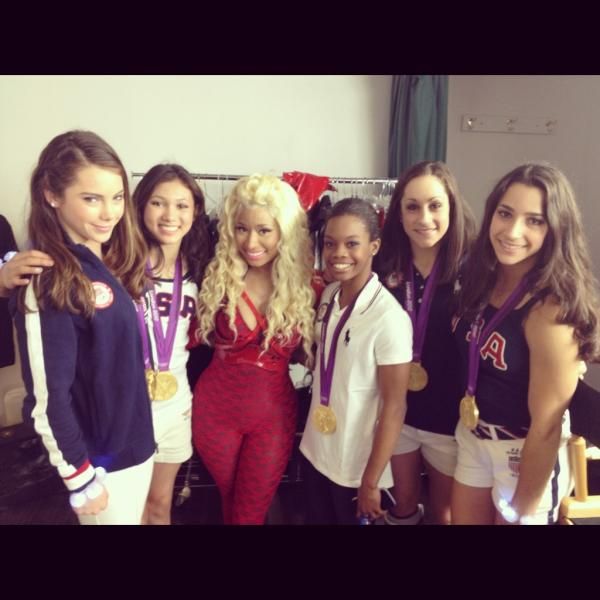 The Team Consist Of: Trell Kimmons,Tyson Gay, Ryan Bailey and Justin Gatlin.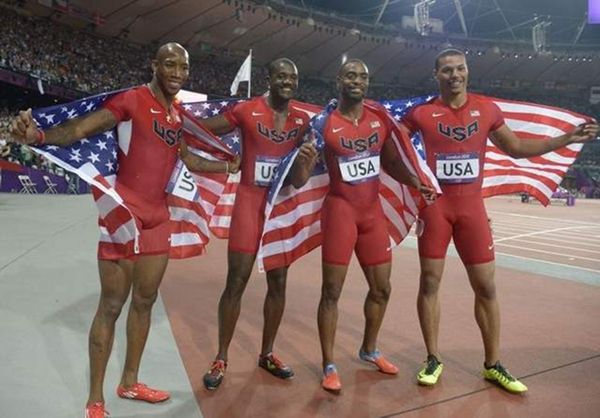 The Team Consists Of: Allison Felix, Fracena McCory, Sanya Richards-Ross and DeeDee Trotter.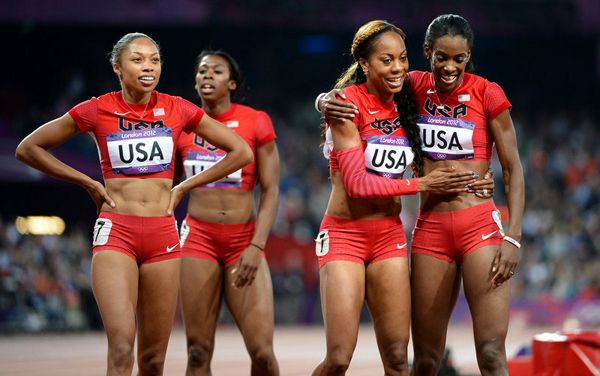 MEN'S BASKETBALL TEAM USA
The Team Consist Of: Carmelo Anthony, James Harden, Kobe Bryant, Lebron James, Kevin Durant and more.
Proud to Say that I am Apart of the USA!!
Visit, Comment and Subscribe to my blog
marshaymodels.blogspot.com
Visit my website
www.wix.com/marshayh/marshaymodels
Follow:
@MarshayModels & @MarshayH
Adios Amigos, Until Next Time